SOUTH DEVON RAILWAY Dave Knowling 1939-2017
Dave Knowling at home on the footplate of 78019
Photo © JBrodribb
Dave Knowling died at home late on the evening of Saturday 23rd December 2017 following complications from his recent treatment for œsophageal cancer. Deepest sympathies and condolences go to his wife Sue and all the members of his family from everyone at the South Devon Railway.
Dave, who had celebrated his 78th birthday earlier this year, joined British Railways at Laira deport, Plymouth, in July 1954. Within a year he had become a passed cleaner and done his first footplate turn. This marked the start of an unsurpassed career spent entirely on the footplate of steam locomotives. He spent time at Slough and Old Oak Common in London, before transferring back to Devon in November 1959, this time to the Southern shed at Plymouth Friary. When Friary closed he transferred back to Laira, but was made redundant in July 1966. He then started work at English China Clays at Marsh Mills, but also started volunteering on the fledgling Dart Valley Railway at Buckfastleigh. He was taken on to the full time staff in 1968 and fired the first public train when the line reopened at Easter 1969.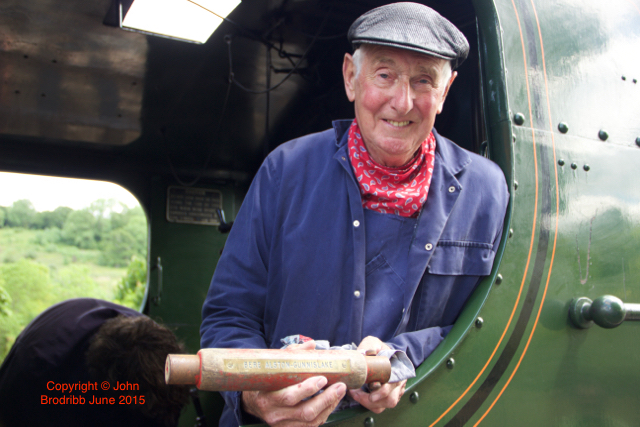 Dave with the Bere Alston train staff
Photos © JBrodribb
The rest, as they say, is history, and Dave worked for the Dart Valley and then the South Devon Railway Trust after it took over the Buckfastleigh line in 1991. He retired in 2004, but continued to drive one day a week until October of this year. The photo of Dave on the footplate of 78019 was taken at Buckfastleigh in May 2012, and with the Gunnislake train staff in June 2015.
Santa by Steam train arriving at Buckfastleigh with a wreath in honour of Dave

Photo © 2017JBrodribb
The final Santa Special service left Buckfastleigh on Sunday 24th December at about 12.30pm, and instead of the customary "Santa by Steam" headboard, carried a wreath in memory of Dave. The train is seen on its return to Buckfastleigh.
Dave's knowledge and experience of steam locomotives was unrivalled, but he also had a passionate interest in the history of Dartmoor and industrial archæology. He leaves a huge gap in the ranks of South Devon Railway volunteers, and will be very greatly missed.