Former GWR Collet 0-6-0 3205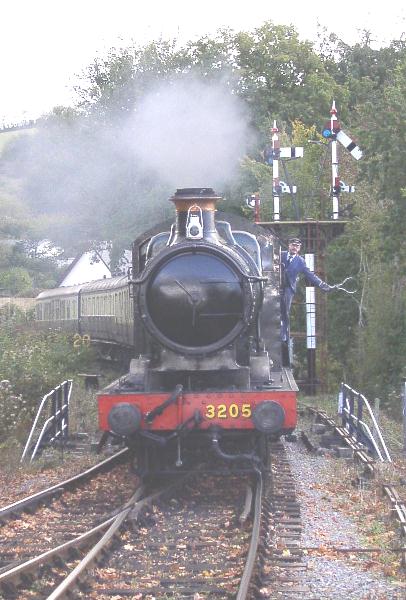 3205 in action August 2005
Built Swindon 1946. 3205 is one of 120 locomotives of the 2251 Class designed by Collett for use on lightly laid lines in Wales and to replace ageing locomotives from various constituent Companies that were absorbed into the GWR at the 1922 grouping. They were in fact the last design of 0-6-0 tender engines to enter service in the UK. They had fairly large driving wheels at 5'2" diameter and the same boiler that was used on the 9400 Class Pannier tanks.
The 2251 Class also found employment on other lighter duties on the Western Region and 3205 eventually found itself on Somerset & Dorset metals after that section was taken over from the Southern Region. When 3205 was withdrawn from service in 1965 it was bought for preservation by the '2251 Fund' to become the only member of its class to survive. In the first instance it was moved to Buckfastleigh for restoration but went on to the Severn Valley Railway in 1967. It was used there for several years before moving on to the West Somerset Railway for another few years. In 1998 it moved to its present base on the South Devon Railway where it had to receive attention to a broken crank axle sustained in traffic on the West Somerset Railway just a week before its planned move to Buckfastleigh. This repair has cost in the region of £14,000.
During 1999 3205 was on hire to the Gloucestershire Warwickshire Railway and the story covering the return to the South Devon Railway is available here.
Boiler returns from Crewe Works
Front and side elevations
Details of the outer firebox
On the 25
th
February 2010 3205's boiler returned from Crewe works where it has been repaired ready for installation back in the frames. The new smokebox was made in-house and was fitted to the boiler prior to the liftinto the frames.
Boiler back in the frames and reassembly progressing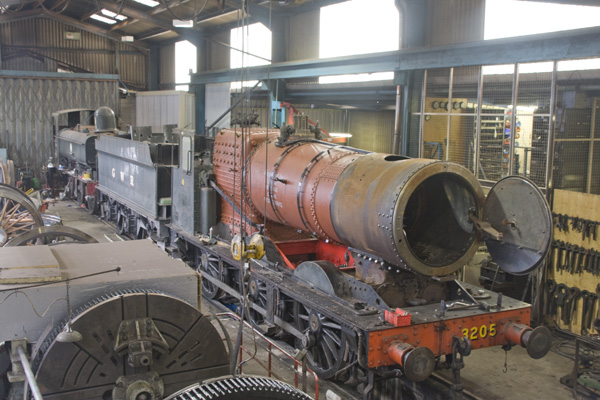 The boiler is back in the frames and cladding under bands have been fitted.

Photo © Gavin Bishop 2010
On the 29
th
March 2010 3205's boiler can be seen back in the frames. Note the cladding under bands have been fitted in readiness for the insulation and outer cladding. Once the claddingis back on she will start to look more like a locomotive again.
Back in 1998, just before 3205 was to come to the South devon Railway, the centre crank axle broke retiring the locomotive from service. The South Devon Railway had a new axle made, the first in preservation, so the locomotive could be returned to traffic. Below is a detail of the failure and the failed axle is now on display outside the main workshops.
Note that this is now a service we can offer and there is one of our crank axles running on the National Railway network