2017 Timetable
Click on coloured date to go to relevant timetable; Public trains only run on days coloured RED, BLUE GREEN YELLOW,




Branch Line Service runs on Days Shaded Green.
Normal Service runs on Days Shaded Red.
Two Train Service runs on Days Shaded Blue
Special Timetable with frequent trains on Days Shaded Yellow
Prebooked Santa Specials ONLY when shaded Mauve
Prebooked Dining Train ONLY when shaded Orange
No Service Trains run on days shewn in white or grey (though you can usually still hire one for yourself)
Download a copy of the published timetable brochure and other timetables and brochures for local printing and/or reference.
The Heritage 'Bus Service will return in 2017


Only

on Gala weekends marked "+++" or stated days above.


Note

"P&R" above is Park and Ride ONLY.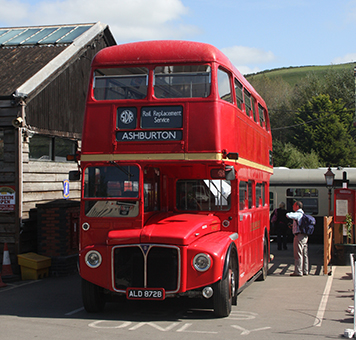 The SDR's LT Routemaster RM1872
Heritage Bus Service
The service will be Buckfastleigh Station, Buckfast Abbey, Ashburton and Buckfastleigh Station.
Buckfastleigh Station (Dep.)
11.35
1.10
2.10
3.10
Buckfast Abbey (Arr.)
11.40
1.15
2.15
3.15
Ashburton Town Centre (Bull Ring)
11.50
1.25
2.25
3.25
Buckfastleigh (Valiant Soldier)
12. 0
1.35
2.35
3.35
Buckfastleigh Station (Arr.)
12. 5
1.40
2.40
3.40
Additional services may be run as required. Details of services are displayed on 'bus stops
To download a copy of the published timetable flyer click here.