GWR 0-4-2T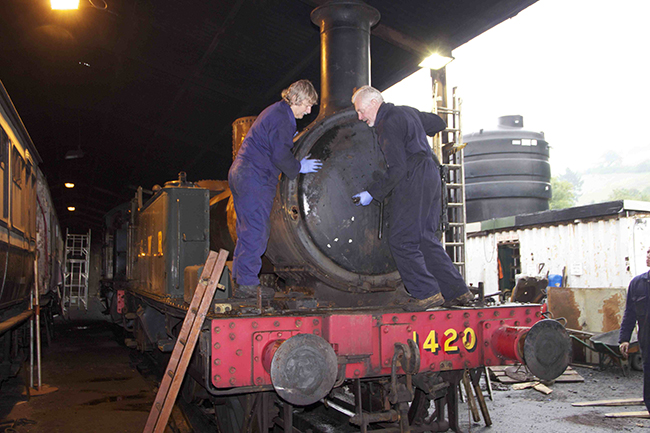 Dave Cooper and Brian Palmer working to refit the smokebox door 30 September.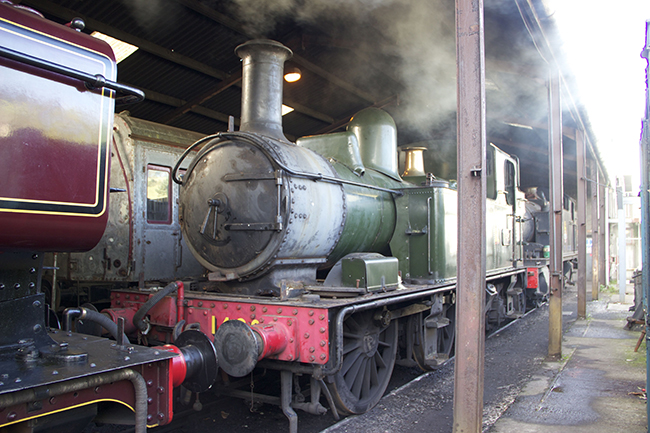 The "complete" loco is seen on shed on 15 October. No it isn't in steam - that's L92 being lit up next to it.
Phot © J.Brodribb 2013
We hope that members will be interested in recent work to cosmetically restore 0-4-2T No 1420 to looking like a real locomotive. The boiler cladding has been replaced and the chimney refitted, and although there was some muttering about whether it was a worthwhile use of time there is no doubt that the iconic SDR loco now looks much better. Let's hope it helps it get pushed up the list for restoration to working order.
Earlier images of 1420
A photographic charter group sponsored the painting of 1420 into full B.R. lined black livery and very smart it looked too! Only two 14XX locos are believed to have received this livery, one of them being one of the regular Ashburton Branch engines, 1470. A re-creation of a genuine Ashburton branch auto wasn't, therefore, be long in appearing!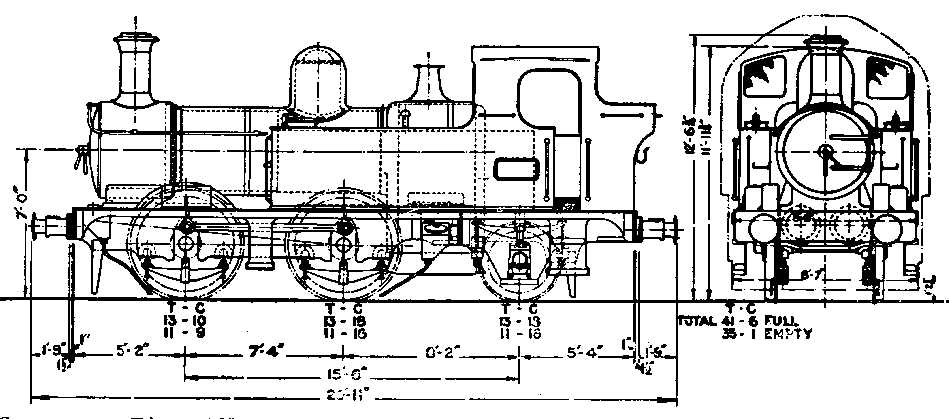 Specification:
Cylinders - Diameter: 16 inches Stroke: 24 inches
Heating Surface -
Fire Tubes, 869.8 sq. feet
Fire box, 83.2 sq. feet. Total 953.0 sq feet
Boiler - Barrel: 10 feet 0 inches; Diameter Outside: 3 feet 9.125 inches and 3 feet 10 inches
Area of fire grate: 12.8 sq. feet
Firebox - Outside: 4 feet 6 inches by 4 feet
Inside: 3 feet 9 15/16 inches by 4 feet and 3 feet 4 inches
Height: 5 feet 5.5 inches
Wheels -
Coupled, 5 feet 2 inches
Pony Truck, 3 feet 8 inches
Tubes-
Fire Tubes: No. 193: diameter 1.625 inches; length 10 feet 10.187 inches.
Fire Tubes: No. 2: diameter 5.125 inches; Length 10 feet 10.187 inches
Water Capacity of Tank - 800 gallons
Working Pressure - 165 lbs per sq.inch
Tractive Effort - 13,900 lbs
Total Weight of Engine
41 Tons 6Cwt Full
35 tons 1 Cwt Empty
Introduced: 1932
Number Range: 4800 to 4874 (Auto fitted for working with trailer cars) and 5800 to 5819
Renumbered to 14xx series on introduction of oil firing.
Duties: Light branch line passenger traffic
Data derived from GWR Engines - Names, Numbers and Classes 1946
Examples Preserved: 1420, 1442 (static at Tiverton), 1450, 1466 (GWS Didcot)